In the age of COVID-19, racial and social unrest and growing environmental concerns are pressing business leaders to take action on social justice and climate change. In a new paper, the World Economic Forum and Mercer examine the impact of this disruption on strategies for diversity, equity and inclusion.
Over the past two years, the coronavirus pandemic has upended social and business norms, exposed pre-existing social and health disparities worldwide and exacerbated the disadvantages faced by underrepresented groups. 
In the wake of recent events, shareholders and investors are escalating their call for more attention and reporting around non-financial measures of success — including DEI and environmental, social and governance (ESG) criteria. According to Mercer's Global Talent Trends report, consumers are increasingly making choices that reflect their social values — with consumer demand for ethical products rising 40% in two years. 
The business benefits of pursuing aggressive DEI strategies are clear. It has quickly become a top business imperative for companies to help create a more diverse organization and a more equitable and inclusive society. Organizations can play a critical role in contributing to real progress by eliminating disparities within their own walls and embedding social justice in their workforce. 
In partnership with the World Economic Forum, we've examined what it takes to make meaningful and sustainable progress on DEI in a post-COVID world. This revitalization requires a holistic approach that covers all stakeholders — including underrepresented groups and all business processes. 
In our joint whitepaper, Pathways to Social Justice: A Revitalized Vision for Diversity, Equity and Inclusion in the Workforce, we outline what that holistic approach to DEI entails and how organizations can apply it in their workforce. 
DEI is a business-wide issue with significant impact. This calls for leaders to engage in DEI efforts to the same degree as any other strategic business imperative.
A Holistic Approach to DEI
Historically, DEI has often been a siloed approach: a people strategy driven by the CHRO or CDO or focused on a singular aspect of diversity (e.g., women, and more recently in some countries, race/ethnicity). However, today's environment and the broader business imperative of DEI have driven a more expansive definition of an effective strategy. 
Embedding DEI into the entire organization requires a holistic view. First, DEI must be recognized and treated as a strategic business imperative. CEOs must drive the initiative and be accountable to stakeholders. DEI cannot be a stand-alone side project, as in years past. Companies must integrate it into all processes. This might be by maintaining supplier diversity, launching inclusive marketing campaigns or adopting technology that fosters equitable work opportunities. A genuinely holistic approach will include both internal and external strategies and consider the impact on consumers, other corporations, governments and civil society.
Next, organizations must consider and embrace the unique experience of all underrepresented groups in a holistic way. A comprehensive strategy will cover a global workforce that is increasingly ethnically, economically, generationally, educationally and cognitively diverse.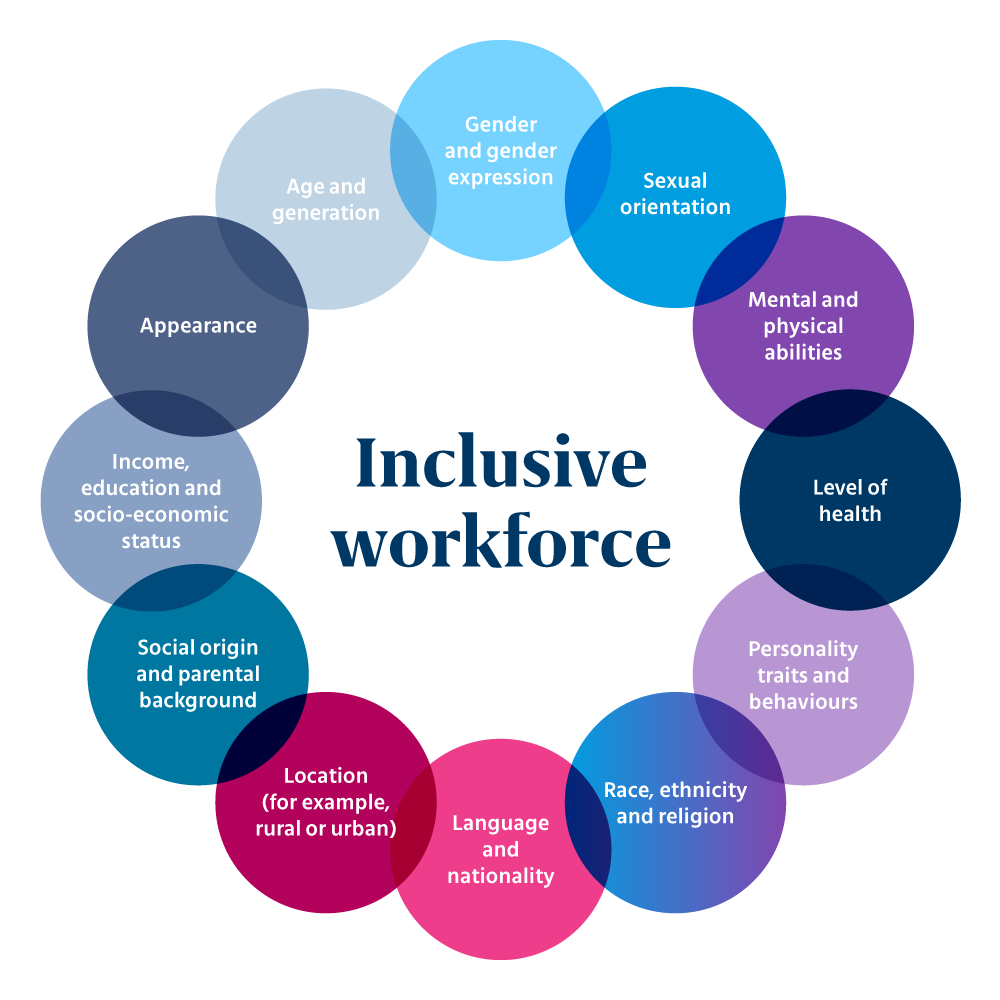 Designing an Impactful Workforce DEI Strategy
As organizations build out their strategy and actions, they should also keep in mind that the most impactful strategies demand progress on all three tenets of DEI: diversity, equity and inclusion.
A diverse environment will welcome perspectives and experiences from various differences, including background, gender, race, ethnicity, age and generation, disability and ability, religion, and sexual orientation. An equitable environment will ensure no disparities in opportunities for advancement, experiences, access to key roles, development opportunities, and rewards. And an inclusive environment will give everyone a sense of belonging — while providing systems that encourage them to share information and participate in decision-making. It also means that workplaces are disability-inclusive with reasonable accommodations for people with mobility and sensory impairments.
While making progress on DEI with a holistic approach is the goal needed for a post-pandemic era, starting at home is usually the first step. By improving DEI for their workforce, organizations can make significant contributions to establishing an inclusive society. 
Where to Begin?
Begin by engaging your team. This will create aligned and committed leaders and workforce. DEI is a business-wide issue with significant impact. This calls for leaders to engage in DEI efforts to the same degree as any other strategic business imperative. Leaders and managers can meaningfully influence employees' daily experience with the right structures in place that reinforce an inclusive culture.
Next, diagnose the problem, so you can root the strategy in proof, data and analytics. A successful strategy hinges on understanding, through data, the current state of the organization and where it is heading. Diagnose DEI progress and gaps to realize which actions will indeed have a positive impact. 
Then it is time to take action. Integrate DEI into policies, practices and programs. Organizations should apply a DEI lens to all processes and policies, from inclusive benefits and grievance procedures to reskilling/upskilling initiatives. 
And finally, you must be accountable. Set goals, measure progress, and share transparently. Developing and implementing a DEI strategy is critical, but just as essential to achieve and sustain success is accountability. Leaders need to measure progress and outcomes and share results openly.