Flood risk is growing at an alarming rate across the world, posing increasingly complex challenges to socioeconomic systems, infrastructure, and the environment. According to Marsh McLennan estimates, 18% of the global population is currently threatened by flooding, and even limiting global warming to 2 °C would cause this percentage to double. Similarly, the impacts of flooding on infrastructure are already visible and set to grow over time, with power plants, international airports, and international ports increasingly under strain.
Recent flood disasters have exposed the severe inadequacies of risk management practices in both high- and low-income countries, highlighting how current approaches to resilience are unable to cope with today's levels of risk, let alone keep pace with a rapidly escalating threat. Despite technological advancements, innovations in risk transfer, and the availability of a growing portfolio of risk management tools, the costs of flooding have continued to rise, with only 17% of global economic losses being insured between 2007 and 2021.
Society must urgently transform its approach to flood risk management. As highlighted by the Global Risks Report 2023, published by the World Economic Forum in collaboration with Marsh McLennan, stakeholders must balance their responses to current crises with a longer-term focus on building resilience in order to shift to a proactive approach to risk management.
The latest output in the Rethinking Flood series, Staying above water: A systemic response to rising flood risk illustrates how the transformation of flood risk management can play out along three ways forward: Living with floods, building strategic protection, and preparing for relocation.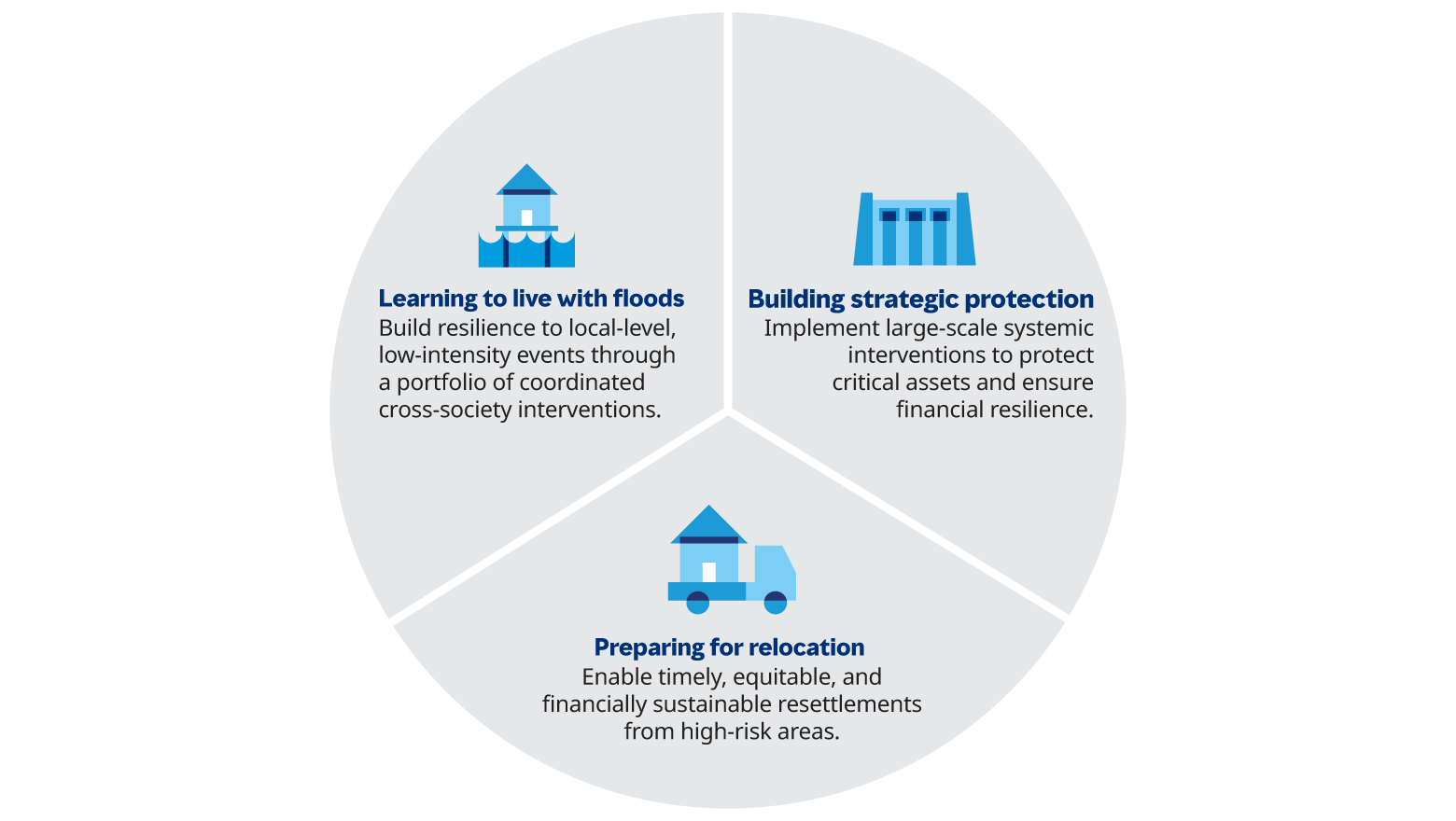 Underpinned by new data from the Marsh McLennan Flood Risk Index, the report first discusses risk drivers, escalating impacts, and inadequacies of current risk management strategies — offering a strong rationale for urgent action. It then sets out guiding principles for resilience and presents examples of innovative strategies from different geographies to illustrate how the transformation can be realized. The report concludes with a call to action by proposing concrete steps to overcome inertia and mobilize stakeholder action by leveraging critical enablers across governance and risk culture, land use and infrastructure, finance, and insurance.