By Alex Bernhardt, Marsh McLennan Advantage and Max Messervy, Mercer
Home to over one billion people, Africa is the most youthful continent on the planet with the fastest rate of population growth. Countries across the continent have suffered from chronic underinvestment in infrastructure however, requiring significant increases in private spending to meet international peer best practices and even more to meet Sustainable Development Goal (SDG) targets.
OECD asset owners collectively hold more than $55 trillion in AUM, with approximately 1% of that figure, or $550 billion, allocated to unlisted infrastructure assets. As an illustrative figure, less than one-quarter of a percent, or $127 billion, of total OECD asset owner assets would be needed to meet Africa's infrastructure needs and SDG targets for energy, water, and sanitation according to GI Hub data.
Figure 1: Infrastructure Spending Projections: Global and Africa, in Trillions USD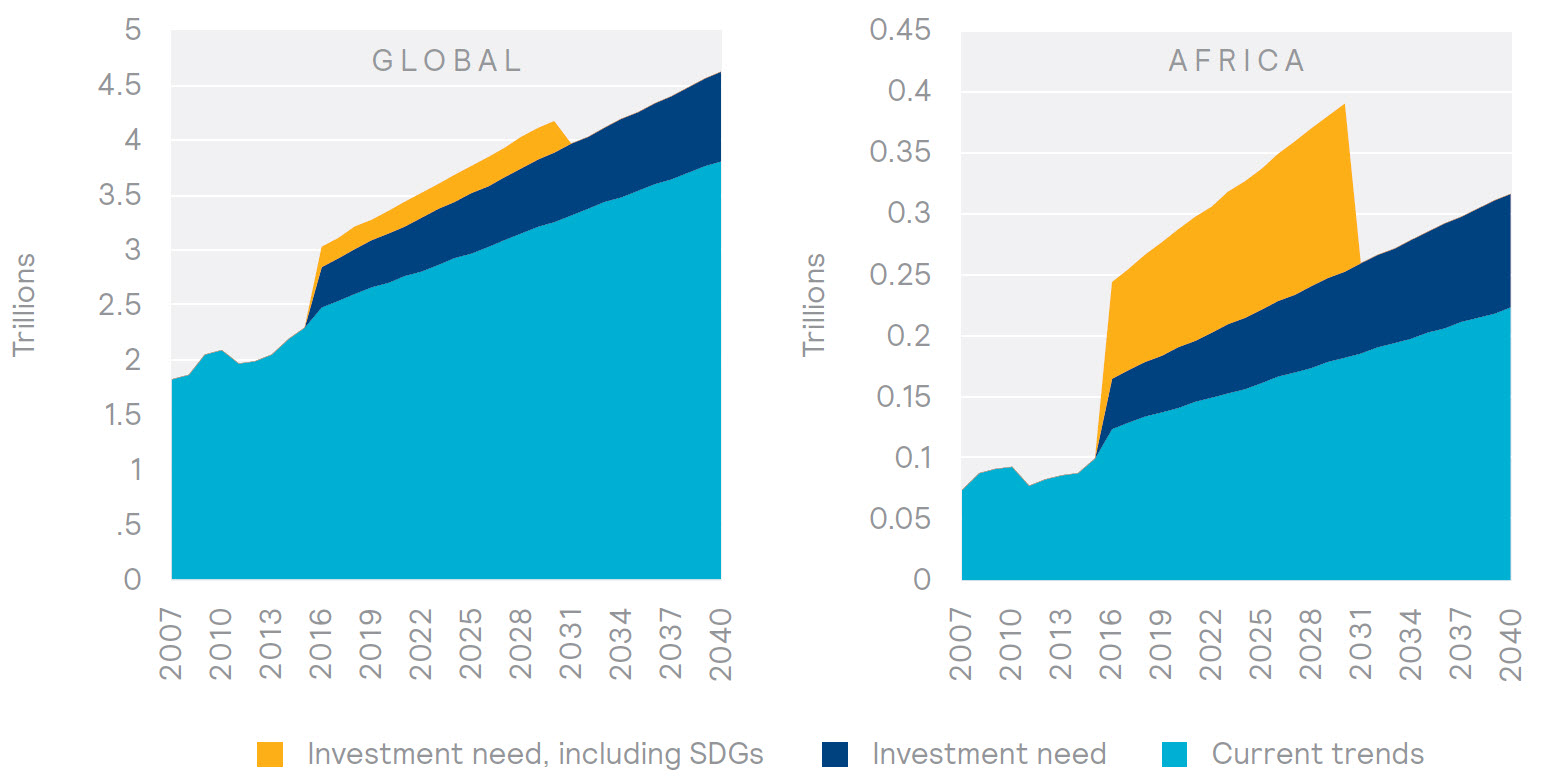 Source: Global Infrastructure Hub's "Infrastructure Outlook: Africa" (2018)
MiDA (Mobilizing Institutional Investors for the Development of African Infrastructure) engaged Mercer to investigate the barriers and opportunities for increasing institutional investors' allocations to Sub-Saharan African (SSA) infrastructure.
The project includes findings from 11 investor interviews, with a top-line finding that despite material risk issues facing infrastructure projects in some SSA countries, OECD asset owners' risk perceptions around the African continent may be overblown, particularly in light of the substantial returns that are possible. 
The findings also highlight various risk mitigation strategies that investors can employ by partnering with local institutional investors and/or development finance institutions, to unlock the potential to achieve both strong financial returns and positive environmental and social impacts. 
Investor challenges we uncovered
Clarifying the Role of SSA Infrastructure in Investors' Portfolios
The Necessity for Patience and Long-Term Commitments
Risk Perception and Reality Gap
Regulatory Inhibitors
Gaps in Financing
Key opportunities to drive Impact and Growth
Collaborative Investing/Club Deals
Education on Risk Mitigation
Engaging Local Investors
Development Finance Institutions Investment Partnerships
Enhanced Refinancing Opportunities
Aligning with Climate and Sustainability Targets