As the COVID-19 health emergency continues, understanding the broader economic and societal consequences is critical to navigating the unfolding crisis and eventual recovery.
Results from the World Economic Forum's 2020 Executive Opinion Survey  highlight front-of-mind concerns regarding the global pandemic, but also offer insights into how business leaders globally are perceiving the ramifications of the crisis for local economies and societies. 
To no surprise, "spread of infectious diseases" rose up the rankings, from bottom of the table in 2019 to being considered second among global business risks. The other Top 10 risks remained relatively similar to last year's rankings, with "failure of critical infrastructure" the top-order risk that slipped in concern most noticeably, dropping five places to fourteenth. "Unemployment and underemployment" ranked as the number one concern globally, one of the many risks which takes on a new significance in a COVID-19 impacted world.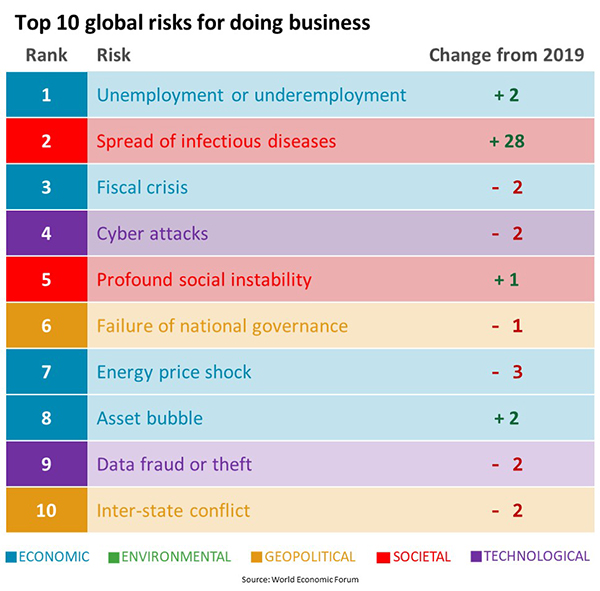 Similarities surface between advanced and emerging markets
"Unemployment and underemployment" have ranked as the number one risk in emerging markets since 2016, but now also rank as the top concern in advanced economies. This rise reveals the fragility of past employment rates and the precarious nature of those jobs under a range of lockdown and economic recovery scenarios.
The threat of "cyber-attacks" is also considered a key risk in both market types. A top ranked risk in the advanced economies for several years, it entered the Top 10 for the emerging market bloc in 2020. "Misuse of technologies" also rose five spots among emerging market concerns from 2019 to rank fourteenth in 2020.
Environmental risks were the biggest movers in emerging markets, aside from "spread of infectious diseases". The risks of "natural catastrophes" moved up seventeen places, while "biodiversity loss and ecosystem collapse" and "extreme weather events" moved up eleven and ten spots respectively. Unfortunately, this rise can often be tied to countries having suffered a significant disaster in the last twelve months.
While advanced economies similarly saw a rise in concern for environmental risks, economic and technological risks completed the Top 5. Reflecting rising civil unrest on the streets of many of the world's cities, along with the stark differences in health and economic outcomes laid bare by COVID-19, societal risks were some of the biggest movers in 2020. "Profound social instability" propelled ten places higher to reach ninth this year.