Foreword
At the beginning of 2020, climate change was at the top of the international agenda. A series of catastrophic wildfires and storms had transformed the issue, turning it into a mainstream public concern. Nations and businesses were gearing up for COP26, marking five years since the Paris Agreement and providing the first opportunity for governments to increase their emissions reduction targets. And climate-related risks dominated the World Economic Forum's 2020 Global Risks Report, in terms of both likelihood and severity.

Within a matter of weeks, COVID-19 had triggered simultaneous public health and economic crises, yet climate change has remained a priority. Surveys reveal that concern about climate change has persisted, and public support for government action on climate change has galvanized. Financial regulators have pushed ahead with steps to integrate climate risks into supervisory frameworks; investors have continued to pressure companies to manage and disclose climate risk; and businesses have continued to announce ever more ambitious commitments to cut emissions.
Meanwhile, the climate has continued to change. Starting with Australia's worst recorded bushfire season, 2020 is making a run to be the hottest year on record. Wildfires have burned a record-breaking area in California, with much of the wildfire season still left to go. Atmospheric concentrations of greenhouse gases have continued to climb despite the dip in emissions caused by lockdowns. Climate risks are more elevated than ever.         
The 2020 Marsh & McLennan Climate Resilience Handbook presents a selection of perspectives from our businesses offering insights from their work helping clients confront climate change and navigate a course through risk to opportunity. Our businesses' expertise – spanning insurance, risk management, strategy, investment, and people – makes us uniquely positioned to do so.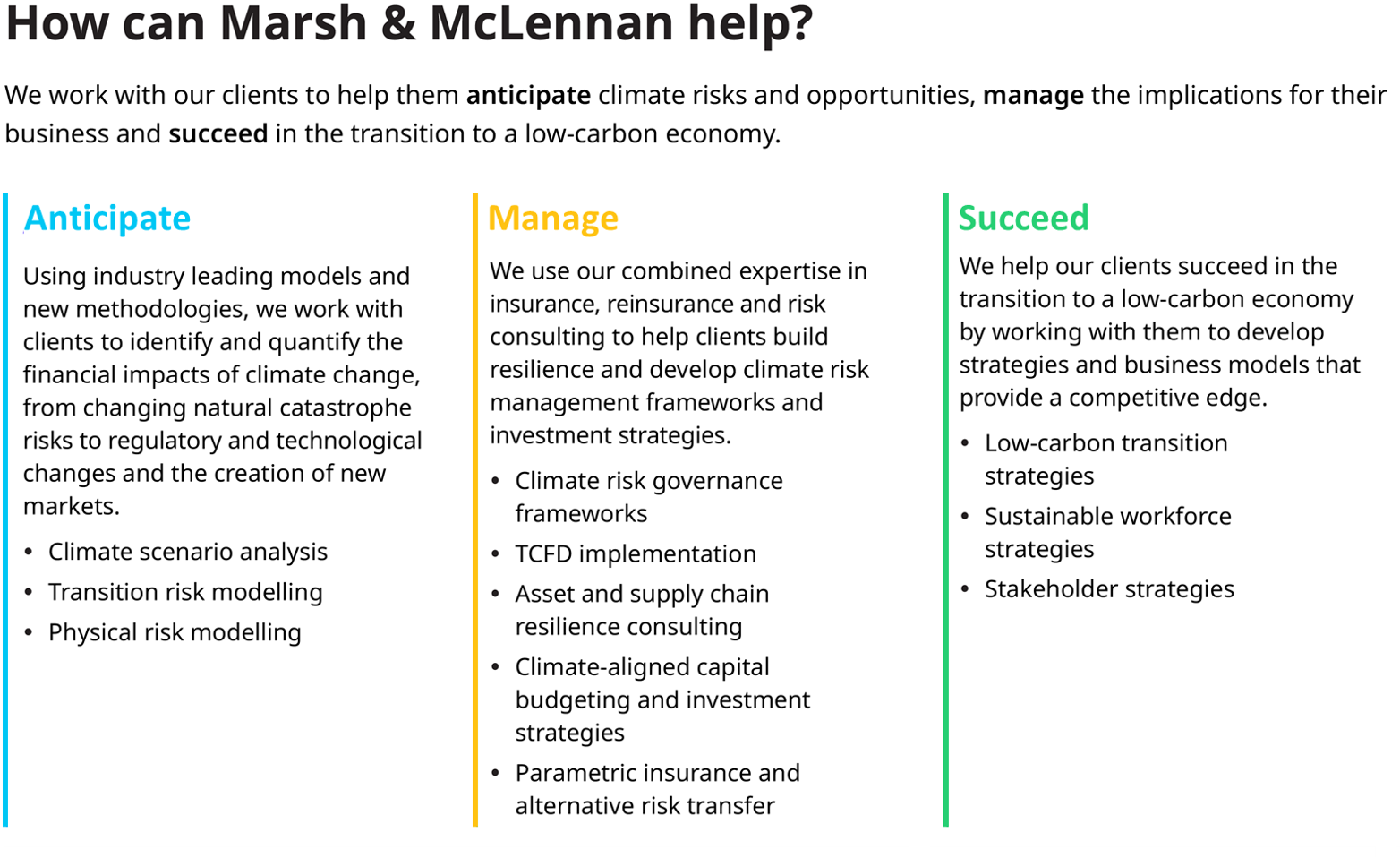 The first section of this handbook explores the pandemic's implications for climate risks. The articles detail how COVID-19 has increased vulnerability to climate-related disasters such as wildfires and hurricanes and has complicated the outlook for risks resulting from the shift to a low-carbon economy. Yet the crisis has also created opportunities for businesses to align COVID-19 and climate strategies and has provided important lessons for how companies and societies can confront climate risks.
The second section looks at the unfolding low-carbon transition through different lenses. Articles discuss the implications for high-carbon sectors, for finance and investment, and for companies' most important asset – staff. They show how the transition to a low-carbon economy is creating significant new revenue opportunities for corporates and financial institutions alike, as well as major challenges in the form of rapid technological, regulatory, and behavioral changes. Industries are bracing for low-carbon disruptions while financial institutions are racing to develop the data, models, and products they will need to finance the transition. Success requires innovation, investment, and clear-sighted strategy alongside excellent stakeholder management.
The final section explores the tools and techniques companies and governments can use to adapt to climate change, ranging from advanced modelling to investments in resilience, parametric insurance, and public-private partnerships. Continued innovation will be needed in each.
I hope that you find these perspectives informative.

Scott McDonald
CEO, Oliver Wyman
Leader, Marsh & McLennan Climate Resilience Initiative