Industries want to embrace a low-carbon world, but seeking the right path to emissions reduction has proven more complicated than expected.
If the coronavirus pandemic has taught us anything, it has demonstrated the horrific consequences of not addressing crises before they manifest. Even with the current focus on COVID-19, failure to respond to Earth's climate challenge is still the greatest risk today. While a vaccine can and will eventually end the pandemic, the only solution that can avert climate change is cutting carbon emissions. However, even with decades of warnings, emissions continue to rise not fall.
Today, there is growing concern about the climate threat among the public, some governments, and the investment community. In January 2020, BlackRock CEO Larry Fink told chief executives his firm would make investments with sustainability as a core goal and would exit investments in companies that "present a high sustainability-related risk."
Just recently, the European Union allocated 30 percent of its COVID-19 recovery fund and long-term budget for climate objectives. France, for instance, has told some companies that they would have to cut emissions as a condition for receiving COVID-19 financial aid, while also saying sales of low-emission cars such as electric vehicles would be subsidized with bailout money. Even in the United States, probably among the economies dragging its feet most on climate change, the Congress has been considering similar conditions for financial aid. In 2019, the European Union began discussing more ambitious goals for emissions reduction as part of its Green Deal: By 2030, emissions would have to be cut by 50-55 percent from 1990 levels, instead of the 40 percent discussed in the Paris Climate Agreement.
Reducing emissions cannot be addressed by slapping on some solar panels, planting trees, or buying carbon offsets alone
Stricter regulation and the mounting public demand for more aggressive cuts in carbon dioxide emissions are creating an existential risk for companies that are not proactively moving to reduce their carbon footprint. This cannot be addressed by slapping on some solar panels, planting trees, or buying carbon offsets alone. It will require making investment decisions with multimillion-dollar and even multibillion-dollar implications, despite huge uncertainty about where future regulation and technological innovation will take the industry and global economy. 
Seizing the moment and pursuing opportunities
What this should tell companies is that the tipping point has been reached and failure to address emissions and pursue carbon-neutral strategies will endanger businesses. Substantial investment in mitigation and adaptation strategies will be necessary to minimize the consequences of extreme weather events, including flooding, severe storms, droughts, and wildfires.
For multinationals and companies with many production sites, there's the added complexity of confronting the variation of regulatory rules across geographies affecting carbon and other greenhouse gases, as well as energy efficiency in general.
Effective carbon-reduction strategies therefore not only require bringing together interdisciplinary competencies from across one's own company, but also cooperating along value chains — from both suppliers and consumers. Designs for carbon neutrality must consider short-term actions as well as options for long-term transformation.
On the positive side, pursuing carbon-neutral strategies can open up opportunities:
A 2019 CDP-Oliver Wyman report found that European companies could anticipate €1.2 trillion of new revenue opportunities from low-carbon goods and services that would cost less than €200 billion to realize.
A

2020 Marsh & McLennan Insights analysis

found that the impact of a company's environment, social, and governance (ESG) performance on workforce sentiment can be a source of competitive advantage. ESG performance will also become increasingly important to attracting and retaining millennial and Generation Z employees as they gradually constitute the bulk of the workforce.
Case studies: Oliver Wyman and the three scopes of decarbonization
Oliver Wyman's work in decarbonization strategy design spans industries and scopes of emissions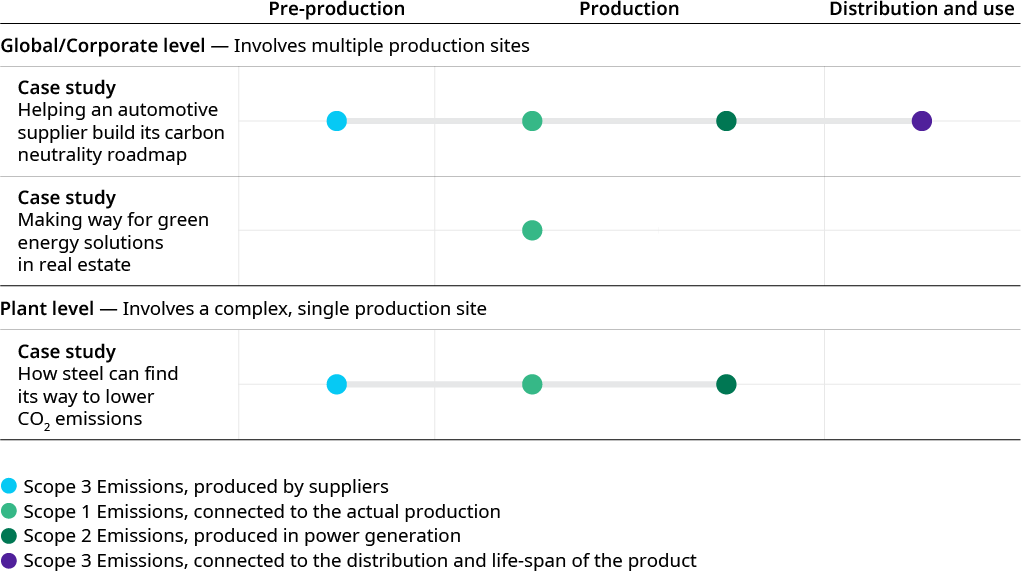 Helping an automotive supplier build its carbon neutrality roadmap
A global automotive supplier set out to define tangible targets and results to measure its performance over time to reduce its carbon emissions.
These targets, designed to serve as a comprehensive competitor benchmark for the newly appointed Vice President of Carbon Emissions, included measures for Scope 1, 2, and 3 emissions and were the basis for an emissions reduction target disclosure. In order to measure progress, a timeline for emission targets and reduction levers was developed. This benchmark, coupled with an overall climate stakeholder analysis, led to a much better understanding of what the company needed to aim for in order to differentiate.
To the company, it was obvious from the start that reaching these goals would not be possible on its own. Consequently, it began to consider opportunities to identify truly innovative partners to work with to generate a competitive edge for the long term.
How steel can find its way to lower CO2 emissions
A European steelmaker was recently assisted in developing a comprehensive carbon-emissions reduction strategy that spans the industry's value chain.
An iterative process was created for site-specific risk assessment and evaluating and prioritizing options for decarbonization.  New ideas were categorized in terms of their technological feasibility, risk, carbon-emission savings potential, cost, return on investment, and time horizon by an interdisciplinary team. The near-term goal of the group was to evaluate the range of options available to the company to move toward carbon neutrality, create a critical timeline, and establish checkpoints where decisions would need to be made or targets met.
Potential transformational paths toward lower CO2 steel production were identified, with key performance indicators and financial impacts for each. This provided senior management with the metrics and rationale for choosing one path over another, and helped with conversations with external stakeholders. 
Redesigning decarbonization strategy
In response to the climate challenge, Oliver Wyman developed ZEROW – a customizable approach to designing comprehensive decarbonization strategies. The approach is made up of three broad phases: a specific risk assessment and target setting, continuous generation of solutions and strategies, and development of an overarching transformational path to a substantially smaller carbon footprint.
For a successful redesign, businesses need to embrace the following factors for designing and implementing effective carbon-reduction programs:
Companies need to make the case for change and present the metrics that identify not only the magnitude of risk, but also the potential for gain.
To identify the carbon-reduction effort as a priority, it must receive full buy-in and attention from the board of directors and become a regular agenda item for senior management.
Companies need to fully understand and scope the carbon challenge. This will require ambitious and quantifiable goal setting for the identified "problem areas" and identifying the drivers and metrics that will help achieve and measure progress.
Companies need to be truly open to innovation, no matter what the source. This must be done not only within the company but with suppliers, other (potential) partners, and customers.
To spur creativity, interdisciplinary thinking and cross-company innovation, use co-creative formats to reach breakthroughs, whether it's well-defined innovation tournaments to generate numerous new ideas or highly paced design sessions to work out more complex, integrated solutions.
There will be no one solution to the challenge, but companies will succeed in "cutting through the noise" when they have in place a specific framework that helps to constantly sort and prioritize ideas, both old and new.
This also requires that companies should attempt to quantify ideas from the beginning – to put different potential building blocks into perspective right away.
To help investors, governments, and companies become partners in the transformation, it's important to develop an overarching compelling strategic narrative and communicate it boldly at the right place and time.
Given the high cost of transformation and regulatory uncertainty, the impending European Green Deal, COVID related stimulus, or existing potential (climate and/or innovation-related) support schemes, a systematic screening and tapping into sources of support should flank all other efforts.
The global battle against the novel coronavirus has taught us how being unprepared can lead to rushed decisions, inadequate supplies, and unnecessary deaths. While COVID-19 had the potential to distract from the climate crisis, it has had the opposite effect. Now, people see climate as the next big threat, and pressure is mounting on governments and companies to move faster, so we can avert tragedies – and, if not, at least be better prepared to face them.
Had we recognized and acted on the threat of pandemic, we probably could have averted the deadly toll of the coronavirus. At a minimum, we could have curtailed the dire human and financial impacts. But all that requires the most important step: recognizing a problem and being willing the act before it becomes a crisis. That's a risk every company faces today with the carbon challenge. In this case, we've had decades of warnings. Only now, we may finally be ready to make a decisive move.