Environmental, social, and governance (ESG) metrics are shaping the development and operation of businesses around the world. The business community is increasingly challenged by regulatory, reporting, and customer demands on the societal impact of their operations across multiple dimensions, and the construction industry is not exempt from this trend. (See Exhibit 1.) 
Exhibit 1: ESG considerations in construction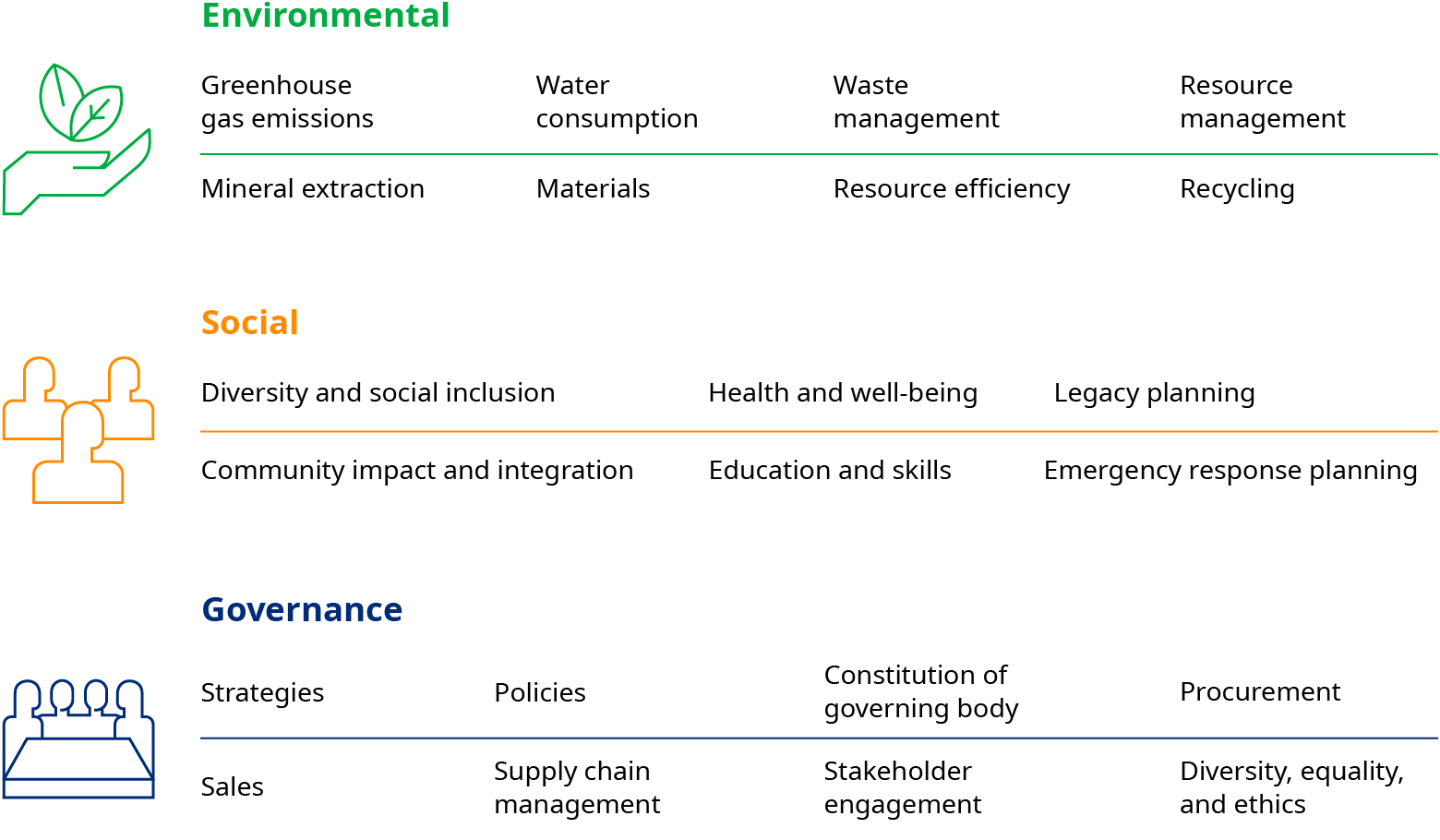 Source: Marsh analysis
Additionally, financial institutions are looking to ESG performance as a marker of sustainable and resilient businesses, which is in turn informing investment decision-making and lending criteria. The same may soon apply from an insurance coverage perspective: Just as some insurers are reducing the weight of coal power projects in their portfolios, construction projects could come under scrutiny from insurers seeking details on the environmental impact of projects before committing to providing coverage. Contractors that are unable to demonstrate their ESG strategy may put the sustainability and resilience of their business at risk.
What does this mean for construction?
Globally, the built environment generates 30 percent of total greenhouse gas emissions and 40 percent of energy use, while construction uses 32 percent of the world's natural resources. On these grounds, it is clear that the construction industry has a role to play in the global initiative to reduce emissions and mitigate climate change.
Yet there is more to consider than simply the operational performance of buildings. The usage of building materials — including how raw materials are harvested, their potential for adaptation and reuse, their embodied carbon, and their ecological implications — is also highly relevant to the overall environmental impact of construction output. An effective ESG framework in construction will seek to identify and measure such factors so that it can improve environmental awareness throughout the industry and encourage more sustainable design and operational choices. Construction will also be challenged to minimize its use of resources and generation of waste, seek opportunities for recycling and reuse, and embed circular economy concepts within its design solutions. This growing list of challenges moreover emerges against a backdrop of tightening safety standards and growing economic constraints. However, these challenges simultaneously present opportunities to demonstrate innovation, sustainability, and "best-in-class" quality – all of which can lead to a greater competitive advantage and stronger economic growth.
One example of a contractor making progress in this area is Mace Group, which reduced its carbon emissions in 2020 by 50 percent. Among other measures, the organization diverted 200 tons of waste timber to alternative uses and convinced many of its largest suppliers to switch from single-use plastic packaging to paper-based alternatives.
The rigor of a construction firm's ESG framework will influence its selection of building materials and design of products, as well as have a significant effect upon its supply chain. Product manufacturers and suppliers may find themselves excluded from tender opportunities if they cannot provide or validate the environmental impact of their products. This is expected to drive change throughout the supply chain via new procurement strategies and more detailed system specifications. For instance, Morgan Sindall recently announced a new program whereby it will work with customers and suppliers to help them meet their sustainability ambitions. It includes utilizing a new carbon calculation tool to help all stakeholders review the lifecycle impact of a project and find ways to reduce its footprint at each stage. Morgan Sindall has also developed a carbon maturity matrix that ranks suppliers from one to five based on their green credentials and will use it to support suppliers in improving their own carbon performance.
Wider ESG considerations
ESG criteria are not, however, only relevant in construction from an environmental perspective. The industry is aware of the drive toward minimizing the carbon output of buildings and the consequent design and specification requirements that it entails. Yet strong overall ESG performance will require construction businesses to implement policies and strategies that account for all of the environmental, social, and governance aspects of their operations. This will directly affect everything from supply chain management and the sourcing of materials and products to procurement strategies and ethical labor standards.
In adopting an ESG lens, contractors will need to ensure their executive team and governing board are aware of, and regularly reporting on, the environmental and social ramifications of their business as well as the systems and mechanisms whereby they direct and manage the firm. There should also be regular engagement with stakeholders (such as clients, funders, and regulatory bodies) to demonstrate awareness of and activity on wider issues affecting the industry and the delivery of projects.
The construction industry is also facing challenges in recruiting skilled labor and attracting new talent: Recent economic downturns, Brexit, and travel restrictions brought about by the global COVID-19 pandemic have reduced the volume of available skilled labor, which is both a short-term and long-term concern. Access to a skilled labor pool is one of the "social" components of many ESG metrics; companies will need to provide both detailed reporting and a clear strategy in order to demonstrate the sustainability and resilience of their workforce. Other social factors include health, safety, well-being, staff development and training, and legacy planning. The industry is quickly recognizing the importance of employee well-being; some projects have installed GP practices and well-being centers on-site. Similarly, canteen facilities, wherein food is carefully controlled from a calorie and nutritional perspective, are increasingly being implemented to address the health and well-being of construction workers.
The influence of construction activity on local communities is another important factor in a firm's ESG performance. The construction industry has a significant and prominent part to play in shaping our homes, towns, and communities. Consequently, it is vital to assess the social consequences of its activities through the ESG lens to ensure continued positive outcomes and gauge the significance of construction in people's everyday lives.
ESG concerns will have a growing influence on the construction sector in the coming years. Whether that be through the demands of clients and financial institutions or greater society and local communities, the need for demonstrable awareness of and action on ESG performance levers is clear. The construction industry is, in many cases, far along in its thinking on these issues, but greater levels of transparency and consistent reporting will be required to maintain this progress. Given its role in molding the future of our communities, the construction industry has a great opportunity to lead the way in embedding ESG considerations into its business models.