The war for talent
The construction industry is undergoing a paradigm shift in the midst of the ongoing COVID-19 crisis. Concurrently, urbanization and growing customer attention to climate change, digital advancements, globalization, and smart buildings are shifting industry expectations: Contractors are being challenged to innovate and invest in talent and technology and develop new business models. The long-term prospects of companies – and indeed the industry – will be defined by their ability to adapt to emerging disruption.
In Mercer´s recent 2021 Global Talent Trends Report the construction industry scores relatively low compared to others on the criteria of sentiment and innovation. This presents firms in the industry with a clear opportunity to improve the experience that they offer their employees across a number of dimensions. Doing so will in return likely deliver a competitive advantage for contractors that can engage their employees and diversify their workforce.
Historically, the industry has a reputation for lacking in workforce diversity, which if left unaddressed could restrict a contractor's ability to attract certain skilled employees in the future. This is particularly relevant given that labor shortage represents one of the biggest threats to the construction industry: 89 percent of firms surveyed in the latest FMI Talent Development study say their biggest challenge revolves around the dearth of talent.
The four keys to winning this war
1. Reimagine the employee experience
The employee experience can be defined as the intersection of an employee's expectations, their environment, and the events that shape their journey within an organization. In the construction business, as with any other industry, the difference between a thriving and failing organization is the quality of its employee experience.
The 2021 Global Talent Trends Report found that 59 percent of companies plan to reinvent flexibility — a key to transforming the employee experience. To do so, companies need to follow a four-step process: understand employees' needs and wants; understand the end-to-end journey; design a targeted strategy; and most importantly, foster a collaborative spirit by bringing employees and management together to innovate and create solutions.
Some contractors have been proactive in their attempts to change the employee experience.  One change welcomed by workers of some firms has been the move from the traditional six-day work week to working five days on-site. Over the course of a career, or even a year, such a change has a transformative impact on work-life balance and therefore the ability of an employee to perform to the best of their ability.
2. Redefine the employee value proposition
Employee expectations toward employers have shifted: Company purpose, mental health, and social responsibility are now critical components of the value proposition. Executives must be prepared to navigate the new realities of the labor market, balancing the needs of their talent against employers' expectations.
Contractors have an opportunity to communicate the unique attributes embedded in their value proposition. It is critical for these firms to identify both the things that their employees value most in the workplace and those that they would be most willing to forego. For instance, competitive pay and career opportunities – core tenets of the construction industry – also happen to be two of the main aspects that determine if employees join, stay, or leave their company. (See Exhibit 1.)
Exhibit 1: What makes employees join, stay, or leave, year-over-year comparison (YoY)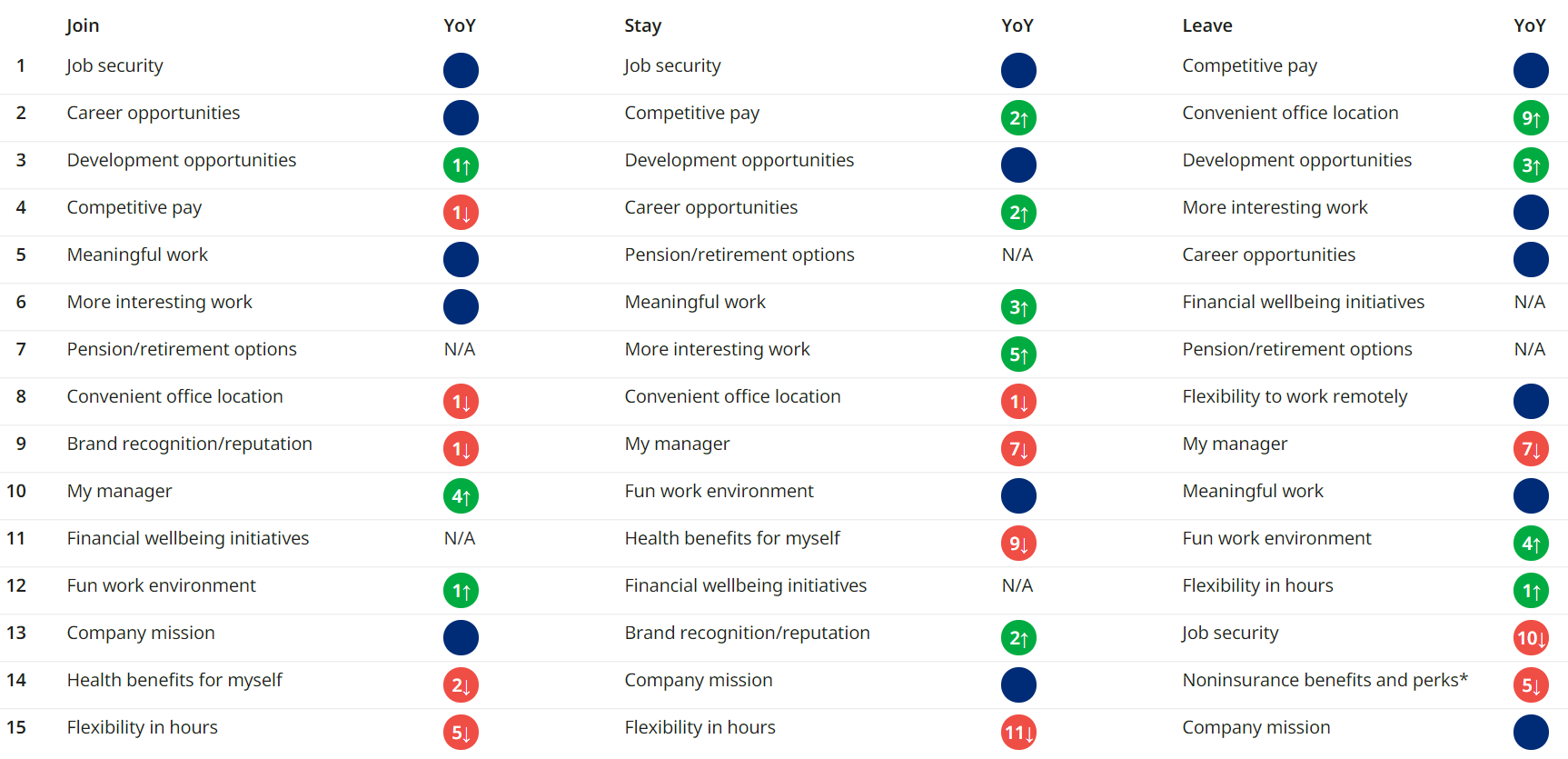 (Click to enlarge)
Source: Mercer analysis
3. Maximize the benefits of technology adoption
Industry 4.0 is a game changer for the construction industry: Increased automation of labor-intensive tasks will change the way jobs are carried out, enabling individuals to work faster, better, and more productively. Immediate adoption of and investment in technological solutions – such as cloud-based software, integrated collaboration, and mobile project management – will significantly bolster productivity. But companies must act strategically when implementing new technology. The onus will be on contractors and sub-contractors to equip their workforce with the competencies and knowledge needed to manage digital disruption.
The adoption of new technologies will provide exciting opportunities in recruiting younger "digital native" generations. As more youth learn programming skills such as Java, they may be open to using their skills professionally to build structures or earthworks. Open world, sandbox video games such as Minecraft may inspire greater interest in the industry as they challenge players to discover and extract raw materials, craft tools, and build structures in a 3D world.
4. Improve diversity and inclusion (D&I) performance

Organizations with a good D&I track record have more success in recruiting the younger generation, which is generally more sensitive to D&I issues than earlier generations. The topic is particularly relevant to the construction industry: A 2018 survey found that homophobia is still an issue in the industry, such that over half of LGBT+ respondents did not feel comfortable being open about their sexuality or gender on construction sites. A strong and updated D&I agenda can thus be an important differentiator through which contractors can demonstrate their credentials as an employer.
Good D&I performance can take many forms. A key opportunity is to actively recruit more female talent to the industry. Another is to offer flexible working practices. For example, the use of modern methods of construction, particularly offsite manufacturing, can provide a work environment suitable for parents with childcare obligations that limit their ability to travel to distant construction sites for extended periods of time.
Another approach is to let employees rotate between working from home and at construction sites. Roberts Co, based in Australia, has taken this approach. "We introduced virtual meetings, and we turned on FaceTime so engineers could see the issues on site," CEO Alison Mirams notes. "We have proven flexibility is possible, and we have demonstrated it's not a women's issue, it's a people issue."