Flooding is the most pervasive natural disaster in the world. Since 1980, floods have killed over 250,000 people and caused over $1 trillion in damage, accounting for about 40 percent of natural catastrophe losses. Risks are increasing due to climate change and the growth of populations and economic activity in flood prone areas. This has implications for prosperity and economic security, as well as societal wellbeing because flooding disproportionately affects the poorest and most marginalized communities.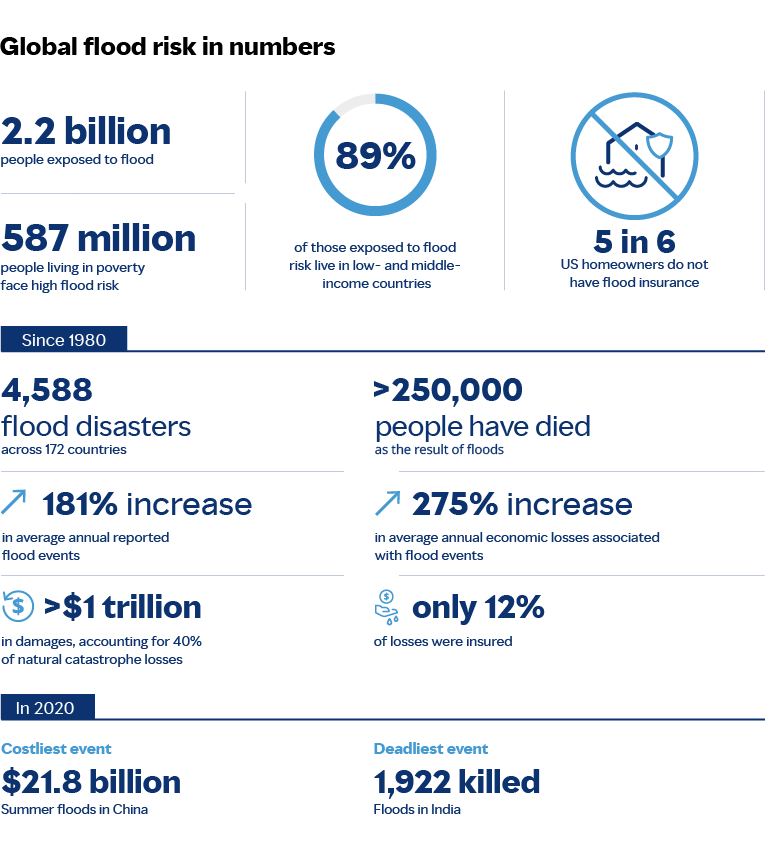 Sunk Costs: The Socioeconomic Impacts of Flooding is the first publication in Rethinking Flood, a four-part series examining the implications of flood risk for corporates, governments, and society. The report offers an overview of the current state and trends of flood risk globally. It discusses the economic costs of flooding, its multi-sectoral impacts, as well as its societal and environmental consequences. The report highlights the potential for flood risk to exacerbate pre-existing socioeconomic inequalities and discusses the role insurance can play to protect vulnerable communities. It additionally analyzes government strategies to narrow the protection gap and enhance national flood resilience, presenting their fiscal costs and potential drawbacks.

Subsequent publications in the series discuss the implications of flooding for businesses, explore the impact of climate change, and set out a new agenda for building resilience to flood risk in a warmer, and wetter, world.