The retail industry is facing a new hurdle as it emerges from the pandemic — finding and retaining talent. Nearly 90% of 1,200 employers surveyed in July 2021 by the Society for Human Resource Management (SHRM) for The COVID-19 Labor Shortage said that they were struggling to fill open positions this summer and 73% said they see a decrease in applications for those hard-to-fill positions.
The July 2021 Bureau of Labor Statistics (BLS) report showed employment in retail trade is down by 270,000 since February 2020. The report also notes that average hourly earnings increased for the third month in a row. Retail organizations have confirmed with Mercer that raising wages above the minimum wage or even to the proposed federal minimum of $15 per hour is not attractive enough to entice applicants to open jobs.
Organizations in industries hardest hit by the pandemic, such as retail, are finding that what worked before isn't working today. Employers need to rethink their compensation and benefit models to address the needs of potential employees. Mercer has done incredible research to help employers understand this new labor market.
Why pay isn't enough to attract
Retail talent is sitting on the sidelines. While money might help some return, employers need to understand and rethink the go-to-market strategy on the employee value proposition (EVP) across all levels of the organization. It's no longer enough for HR leaders to attract and retain talent with compensation and benefits alone. These contractual rewards are expected as standard by applicants today. Their expansiveness and value are often underappreciated. Employees today expect more and have different needs.
When the pandemic began, what indirect messages were you sending to your employees? Did you take the abrupt changes to their personal lives into consideration — did you treat them like a person or simply as a resource to be amortized?
Each individual's "why I work" is unique. The same is true now for why they do not. For some, the health precautions have forced retail employers to reduce headcounts, and the job or the hours are no longer there. For others, the pandemic has changed childcare, eldercare, and home duties, reducing the time and energy available to work.
Many retailers are beginning to listen to what their employees need beyond pay. A few examples were highlighted by CNBC recently:
"Carter's, a children's apparel retailer and one of Bright Horizon's clients, held several sessions last year to hear working parents' problems. That conversation revealed how important family support was becoming."
"Best Buy, which offers backup child care to its employees through Care.com, began to provide $100 monthly reimbursements for tutors for children between the ages of 5 and 18 and the retailer expanded its paid leave program, giving workers up to six weeks of paid leave."
It is critically important to develop the right EVP for your workforce. Mercer can help you strengthen your employee value proposition to attract and retain the right retail talent.
Disruption drives reinvention
The pandemic has caused retailers to think differently about the consumer. It's also time to think about retail employees differently and from multiple perspectives. According to Mercer's >2020-2021 Global Talent Trends study, all industry sectors ranked "restructuring" as a #1 or #2 priority for 2021. Restructuring for the retail industry means your business model may need to change.
Workers and customers demand increased safety and protection measures In thinking differently about the consumer, you have had to pivot your business models to online experiences and contactless delivery models to meet customer demand.
According to a recent World at Work report, Why We Work: Drivers of Employer Choice and Employee Retention," workers in the retail industry are least likely to indicate base pay and social culture as influencing attributes. Of notable interest, health and welfare benefits are seen as being equally influential as base pay."
Especially now that COVID-19 is still lingering and concerning headlines spread easily across social networks, creating a safe and caring work environment for employees is crucial. No matter what procedures you put in place or how you shift your business model, employees need to know that you consider their health and safety to be of utmost importance, as you do for the consumer.
Rethinking retail labor
Although the business model has shifted to allow consumers to have minimal disruption to their retail experience, the work schedule of retail employees has not shifted as quickly. Work schedule is cited as a top influencing attribute 62% of the time during the job-seeking process. When feasible, allowing flexible schedules or the ability to work from home (part time or full time) will increase the appeal of working at your organization.
Across all industries, 77% of executive respondents to the 2021 Global Talent Trends study believe freelance and gig workers will substantially replace full-time employees within the next four years. Are there ways to harness this movement to the advantage of the retail industry? Instead of antiquated last-minute schedules, could you move to an app-based gig system for personnel management?
Shaping the retail employment experience
Retailers frequently talk about creating a fresh new retail experience for customers, but do you do the same for retail employees? Successful retailers will leverage technology and "big data" to provide a differentiated shopping experience for customers. Still there is a need to leverage technology and big data to create a positive, compelling working experience for employees.
Technology is integrating with all parts of our lives. Some retailers have reduced their store footprint and rely on e-commerce, while others continue to integrate technology into inventory systems, self-checkouts, and distribution centers.
Are you making the same investment in technology to upskill or reskill your employees to keep pace as technology grows in your business? Through Mercer engagement tools, the data illustrate that upskilling and reskilling are an investment in an employee's value and longevity with the company. It demonstrates the employer's commitment to the employment agreement and to the employee as a person of value.
Redefining the retail career path
Traditionally, retail labor has been seen as primarily comprising the generation just entering the workforce. But times have changed, and there are currently four generations (See figure) of retail employees causing congestion along the retail career highway. Each generation wants to drive at different speeds and instead of seeing the open road ahead, the only thing each one sees is the taillights of the previous generation.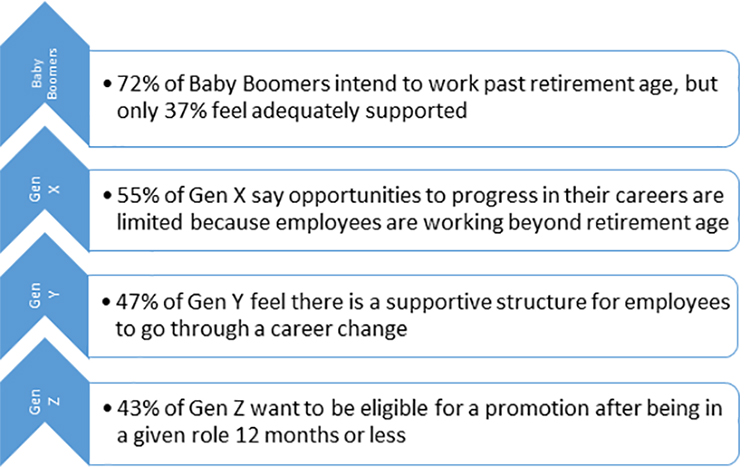 What steps has your organization taken to demonstrate career progression from store or distribution roles into corporate roles? Are there too many levels of the ladder to climb, causing talent to become frustrated with the process? If your organization is ready to start looking at its job architecture in conjunction with the business model changes made as a result of the pandemic, Mercer can help.
The future of work
What your brand says about your product and services is what brings consumers back each time. As your brand evolves, the way you look at labor has to evolve as well. Branding is crucial to retail and making employees feel part of the brand family can start today. Talent is out there, waiting for the right opportunity that provides total rewards. It's time to rethink retail to attract and retain available talent.
Contact us today to get started or start with Mercer's US Retail Compensation and Benefits Survey to see where you stack up.