This perspective was first published by Guy Carpenter here.
As energy producers increasingly move from fossil fuels to renewable alternatives, they need to look closely at a shifting environment in the way they do business. Fortunately, risk transfer mechanisms can help stakeholders more smoothly navigate these changes—and the insurance industry is extremely well-positioned to offer such solutions. Today, global insurance markets have more than USD 2 billion of capacity available for energy and renewable energy-related risks, with capacity steadily increasing.
Just getting facilities built and operating is a tremendous undertaking. Risk transfer solutions can help secure capital, reduce total costs of risk, and provide stakeholders with appropriate protections. Insurance can cover everything from delays in start-up, to business interruption, credit, contractual and geopolitical risks, third party liabilities, and natural catastrophe events.
The (re)insurance industry's understanding of these types of risks is improving continuously as the renewable energy sector grows, and as technologies mature. For example, insurance markets in Asia are quickly learning how to evaluate earthquake risk for offshore wind projects. Guy Carpenter's article, Asia Pacific Offshore Windfarms Play Growing Role in Addressing Burgeoning ESG Concerns, goes into more detail about offshore windfarms in the region, how they play a major role in the drive to increase the world's use of renewables and reduce its carbon footprint, and how the region is dealing with potential risks and challenges.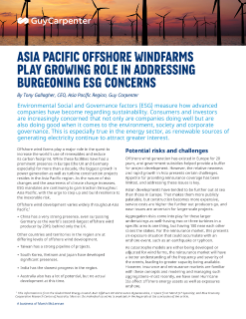 Asia Pacific Offshore Windfarms Play Growing Role in Addressing Burgeoning ESG Concerns
DOWNLOAD PDF