The 2022 Mercer Global Talent Trends (GTT) Report draws on the responses of over 11,000 C-suite executives, HR leaders and employees representing 16 geographies and 13 industries to understand industry challenges, employee well-being and how organizations can harness collective energies to build more sustainable workplaces.
Drawing on the results of the GTT, our experts from across Marsh McLennan have published a complementary sector-specific report detailing key trends, figures and outlooks for the Construction industry. Some of the highlights of this report include:
Sustainability/ESG concerns: As the Construction industry remains one of the biggest emitters of greenhouse gases worldwide, sustainability will likely come to the forefront for investors, customers and employees over the coming years. Indeed, ESG and sustainability goals were the number one concern among C-suite respondents in 2022. More encouragingly, the Construction C-suite seemed to be the most committed out of all industries to meeting ESG and sustainability goals, albeit with many still learning to scale initiatives. 

Employee retention and well-being: Currently, the most common reasons for employee attrition in the sector are better pay/benefits elsewhere and worker burnout. Fostering employee well-being has been a significant challenge for HR, especially in the context of the pandemic. The sector, however, has been an early adopter of virtual well-being tools such as virtual mental health advice bots, and an app to improve the financial wellness of employees. The sector will also likely see investments in diversity, equity and inclusion (DEI) initiatives to attract and retain young and female workers.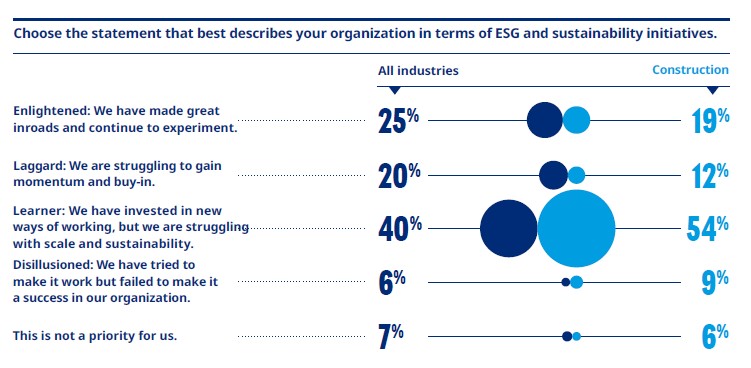 Capitalizing on the full potential of the industry will require that construction companies invest more in their people, processes and culture initiatives. Doing so will ensure that firms have the ability to acquire, retain, develop and motivate the talent they need — people with the skill sets and experience that will allow them to adapt to new ways of working and move into the future with confidence.