This article was first published by Oliver Wyman here.
Companies' impacts on climate and nature are inextricably linked – and need to be addressed in collaboration with their value chain. The emissions created by companies' value chains are about six times more than their "direct" operational emissions, and their supply chains reach deep into countries with high rates of deforestation and water stress.

Written in partnership with CDP Europe, this report is the third in our series of collaborations, analyzing in-depth the disclosures from over 1,200 European corporates from CDP's 2021 questionnaires. For the first time, the analysis includes not only the climate change submissions but also the forests and water security survey submissions.
This report looks at how far Europe's companies are turning lofty goals into concrete actions and features a multitude of good practice case studies from leading companies. While it identifies areas of real progress, the report finds that in each case, leadership is concentrated among a minority of companies and that very few companies are leading on all their impact areas. 
Acceleration in climate ambition: 1 in 4 European companies disclosing climate data to CDP now have approved science-based targets (SBTs) for reducing emissions, having grown 85% in a year

The number of European companies with approved science-based targets (SBTs) grew by 85 percent last year. Europe is leading the way, as Europe contributed over half of all global SBTs set in 2021 by companies disclosing to CDP. Nonetheless, still, only 16 percent of firms have targets aligned with the Paris agreement's 1.5°C goal. COVID-19 brought a 13 percent drop in reported corporate emissions, but there is little evidence of the step-change in emissions reductions needed.
The number of companies setting science-based targets is growing rapidly
% of companies reporting to CDP with SBTs by region, 2020–2021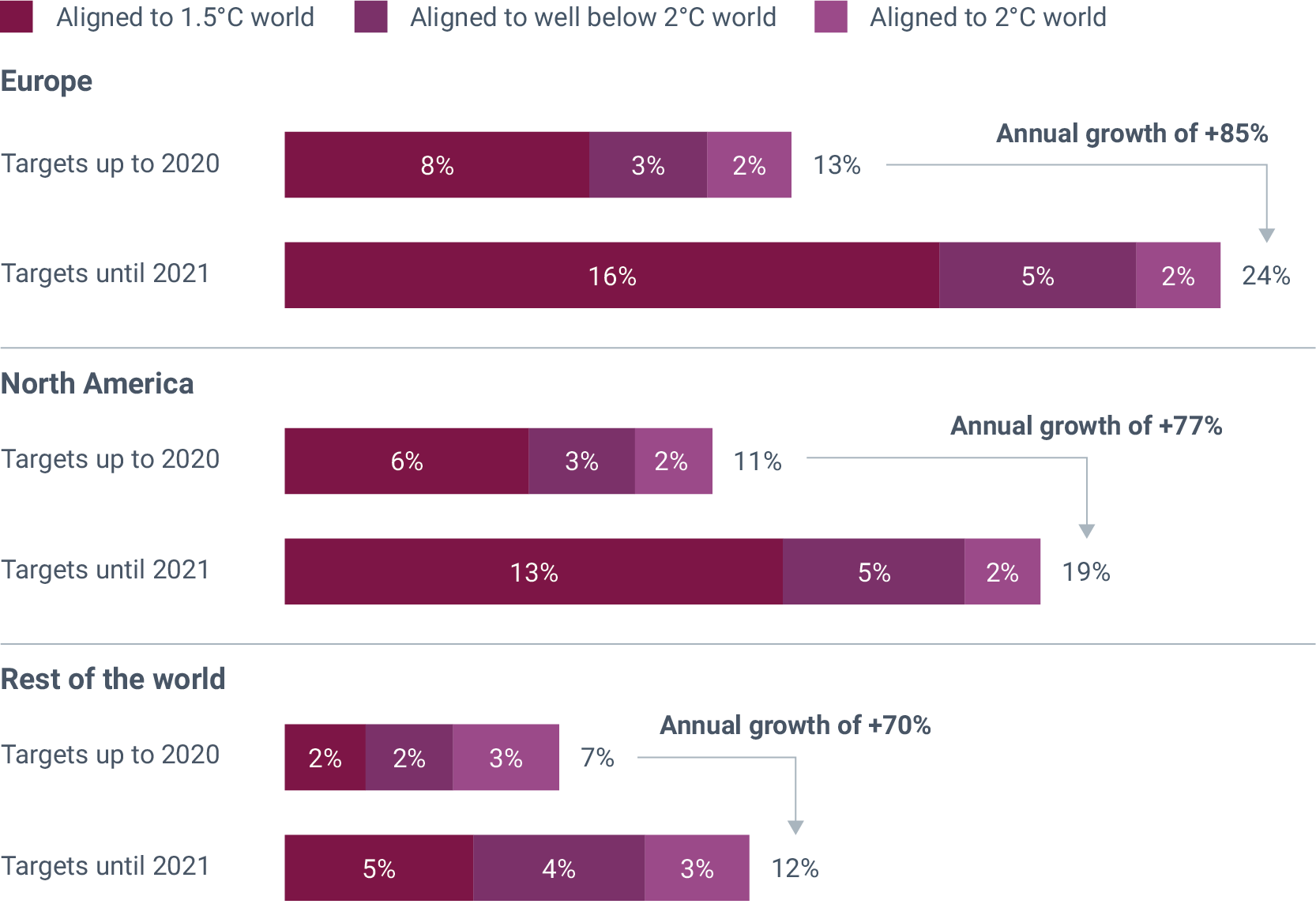 Signs of faster progress in financial services: 50% improvement in European banks, investors, and insurers reporting financed emissions
2021 saw rapid growth in financial sector commitments under the banner of the Glasgow Financial Alliance for Net Zero (GFANZ). The share of European financial institutions disclosing portfolio emissions increased by 50 percent compared to 2020, to 44 percent. Meanwhile, a third (32%) of disclosing financial institutions report specifically encouraging companies in their portfolios to set emissions targets.
Disclosure of 'financed emissions' by the european financial sector has grown by almost 50%
% of financial institutions reporting financed emissions, 2020–2021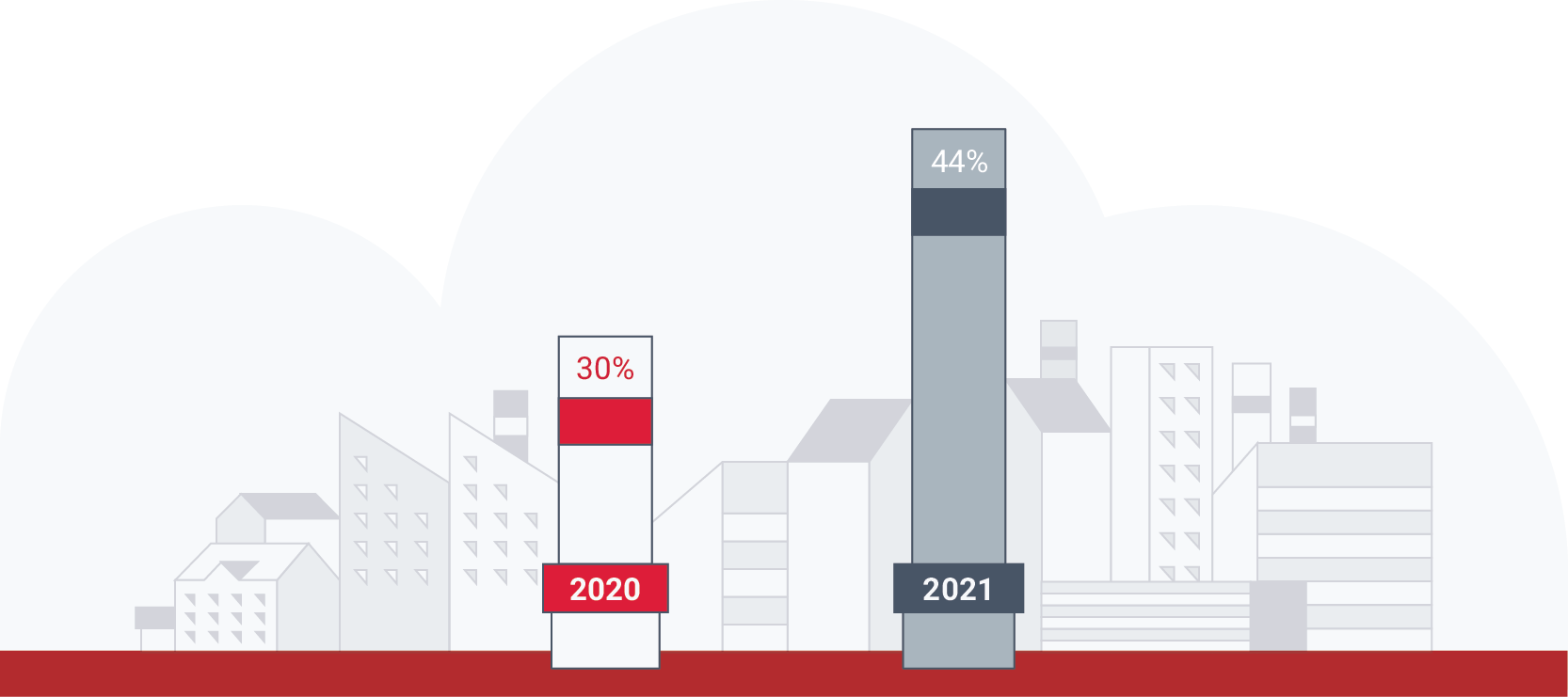 Nature as a blind spot: Just 1 in 20 companies have strong targets for emissions, water, and zero-deforestation
Nature is rising up the corporate agenda, but corporates are often failing to act on their wider environmental impact. As a share of revenues, reported climate risks are on average 10 times larger than water risks and 5 times larger than deforestation-linked risks. Among companies responding to all CDP questionnaires – climate change, forests, and water security – just 1 in 20 have a science-based target, a target for water withdrawals, and a best practice forests-related commitment that includes zero-deforestation. 
Only 5 percent of companies responding to CDP on climate change, forests, and water security surveys have set robust targets in all three areas
% of companies with relevant targets, 2021

The opportunity of broader leadership: If all companies matched the best in their industry, emissions equal to the UK and Ireland would be spared each year
A recurring pattern is that leadership in reducing impacts has been confined to a small number of companies. This is whether looking at action on climate, forests, or water security, and is especially true for engagement throughout value chains. If Europe's most carbon-intensive companies caught up with the sector leaders, corporate operational emissions in Europe could be cut by 40-50 percent – emissions equivalent to the UK and Ireland would be spared each year.
Total operational emissions could be cut in half if all companies caught up with the leaders in each sector
Potential emission reduction in MN tonnes CO2e (Scope 1 and 2) by sector, 2021