The technology industry has gone through tremendous growth in recent years. Increased reliance on technology, especially due to pandemic lockdowns and expanded remote work practices, boosted demand for tech products.

But shifting economic realities — including record rates of inflation, persistent supply chain challenges, and difficulties accessing capital — have impacted technology companies and triggered a reset of priorities. Both established firms and tech startups felt the crunch of the global economic slowdown, leading to slower growth in 2022.
And highly publicized layoffs are persevering this year as tech companies take steps to cut costs. The majority — 69% — of respondents to Marsh's Global Technology Industry Risk Study 2023 said they are implementing direct cost reduction initiatives while close to half are reducing their workforce or slowing down hiring (see Figure 1).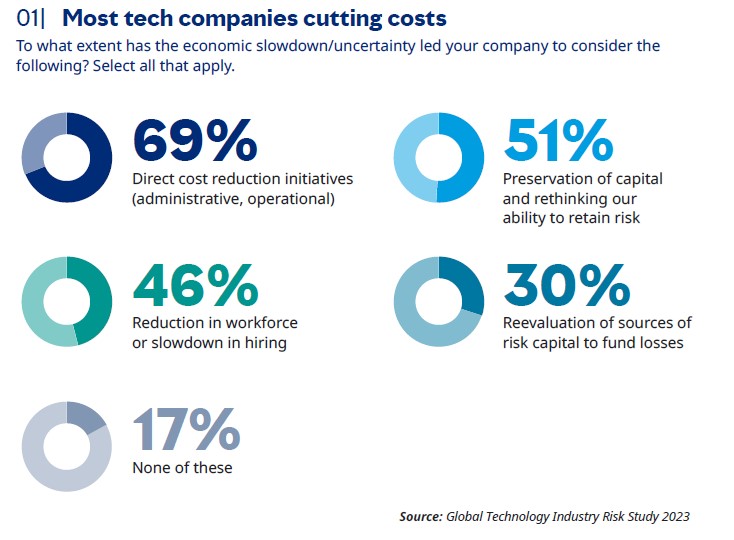 Despite these headwinds, there is optimism that the industry will start recovering in 2023. Worldwide IT spending is expected to grow by more than 5% this year, significantly higher than 2022's growth of less than 1%.As tech companies continue to reassess their priorities and take action to address both evolving and emerging risks, they should take action to remain resilient during the global economic slowdown, focusing on addressing their people risks, understanding their risk ecosystem, and continue driving operational efficiency.
Don't overlook your present and future people risks
The current economic climate is worrying both employers and employees. Close to 90% of global CEOs and CFOs interviewed by Mercer in October 2022 believe that a recession is forthcoming. And employees are increasingly concerned about job security, compounding existing challenges posed by record high levels of inflation that has affected workers' ability to cover monthly expenses.
Still, the labor market remains tight. And while Mercer's research shows that close to 60% of employers plan to reduce headcount, half of organizations plan to increase their hiring budgets, indicating that companies are looking to invest in critical skills to remain competitive.
As they navigate today's economic challenges, tech companies should focus not only on current skill requirements but also consider future needs and seek to address any workforce gaps through targeted training and recruitment strategies. But only 38% of companies in the tech sector have business plans with enough detail to identify future skills needs and less than half understand their current workforce skills.
For tech companies to strengthen their current and future workforce, human resources teams should have a seat at the table where strategy is being discussed and decided. It is also critical for HR to become more agile in helping organizations more effectively identify their needed cyber skillsets and more broadly, attract and retain the right employees.
However, tech leaders should keep in mind that building the right workforce requires understanding their people's needs and recognizing that these are likely to differ. An unmet needs analysis can help leaders identify the benefits their people value most. And they should also focus on building a culture that provides their people purpose and a sense of belonging.
Understand and de-risk your entire risk ecosystem
Technology products depend on a complicated and interdependent chain that extends from suppliers and vendors through platforms and applications and finally content creators and end users. A break in any part of the ecosystem can severely affect the ability of a tech company to operate. These could include a failure of a supplier, a platform outage, hardware shortages, or even shifting consumer preferences.
Many tech companies transfer these risks and others through contracts, which often means that the end consumer will be shouldering some of the risk if a product is delayed or faulty. Tech companies should instead focus on building solutions that make their products and services as risk-free as possible for end users. It's critical for tech organizations to map their entire ecosystem to understand the interdependent risks that may affect their suppliers. Aside from actions to minimize these risks — including identifying alternate suppliers and diversifying their supply chain — consider risk transfer solutions and warranties that make products as risk-free as possible for end customers.
A similar approach applies to downstream vendors, for example helping last-mile delivery drivers purchase adequate coverage or assisting independent vendors on an ecommerce platform to secure product liability insurance. And with business interruption among the top concerns for respondents of the 2023 tech risk study, it is important for ecommerce platforms to secure the appropriate cyber coverage that protects both them and their vendors in case of a major disruption. A robust risk transfer program can provide increased security to everyone within the system and help build trust in your products and services. Further, reducing friction with vendors and customers can help tech companies focus on growth.
Drive operational efficiency
As tech organizations weather the current challenges, prepare for future ones, and focus on improving their resiliency, it is critical to identify areas of efficiency that help growth. Identifying the most pressing risks and quantifying their potential impact can help risk management departments and boards prioritize their investments and decide which risks to retain and which to transfer.
This approach requires a clear understanding of the organization's current risk landscape. While companies have extensive amounts of data that can give them valuable insight into their risks, this, many times, sits in siloes across different departments. And when left unstructured, it becomes difficult to turn data into actionable insights. For example, better understanding the values of their properties can help streamline the renewal process and reduce the risk of underinsurance. Ensuring that vendors have adequate coverage can be a time-consuming process but which can be streamlined through online dashboards that both verify the coverage and provide certificates of insurance and also provide vendors to purchase the necessary coverage. These automated processes can allow tech companies to focus on growth opportunities.
Today's economic landscape is forcing many tech companies to reset their priorities. As they do so, they should focus on embedding strong risk management actions that help them remain competitive and allow them to focus on growth.