The World Energy Trilemma Index presents a comparative ranking of the energy systems of 127 countries, estimating their performance across three dimensions: Energy Security, Energy Equity, and Environmental Sustainability. The Index, at its 12th edition, is the result of a collaboration between Marsh McLennan, Oliver Wyman, and the World Energy Council.
The energy trilemma is especially relevant today. As energy demand rebounded post COVID-19, the invasion of Ukraine triggered a series of shocks to global energy supply chains. As countries look to secure their supplies, tackle an affordability crisis, and make progress towards achieving their net zero commitments, the ability to balance the three dimensions of the Trilemma Index is critical.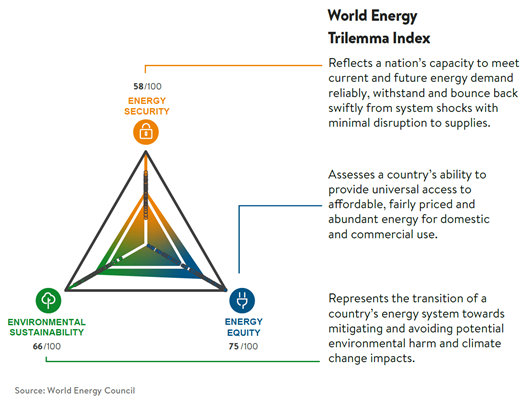 Energy Security is in particularly sharp focus in 2022. Countries with strong security performance tend to operate mature, sophisticated energy systems and markets, with a diversified energy mix and reliable sources – albeit not immune to sudden changes and shocks. Note that the evolving energy situation and the current fast-moving changes in Europe are not fully reflected in the 2022 Trilemma Index results due to limited availability of up-to-date source data.
Energy Equity ranks are dominated by hydrocarbon-rich, energy-exporting countries using their natural resource endowments to keep energy affordable. There is a growing equality gap between top and bottom performers, with over 700 million people still lacking reliable access to electricity
Environmental Sustainability of energy systems is critical to meet net-zero targets and keep global warming well below 2 °C, a goal set out by the 2015 Paris Agreement. Substantial resources have been committed to decarbonizing energy systems, but improvements have been so far limited and trail that in the Security and Equity dimensions.
This year's report offers insights on how countries navigate these three challenges. The complete list of rankings, country and regional profiles, and changes in key metrics can be accessed here.